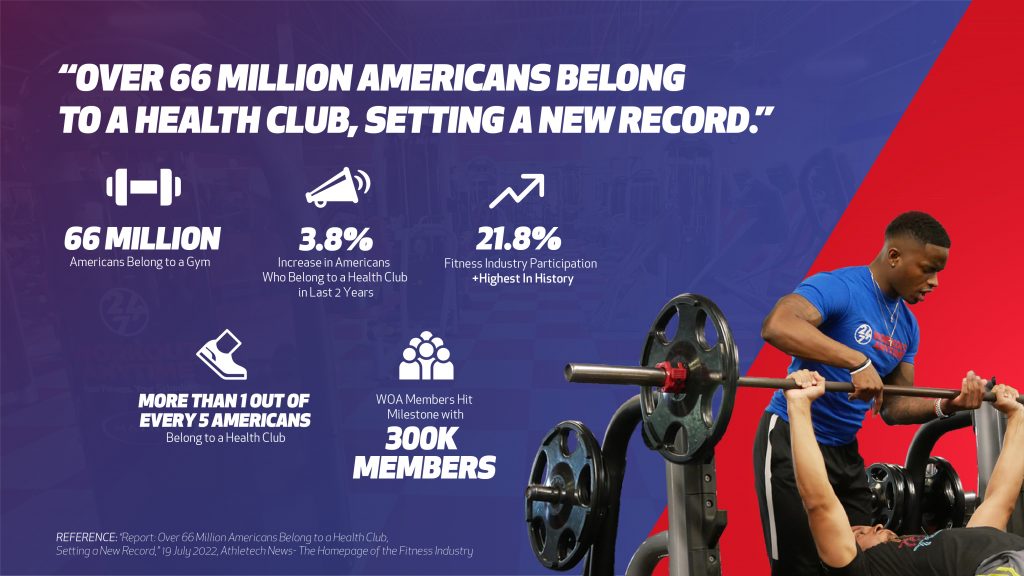 The fitness industry is on fire. And, the numbers are there to back it up. A recent study conducted by IHRSA, the International Health, Racquet, and Sports Club Association reported a record-setting 66 million Americans belong to a health club. While you may think that as a result of the pandemic, social distancing and the availability of advanced at-home workouts people are choosing to work out from their homes, on the contrary. The IHRSA study concluded that Americans prefer to workout at a health club or gym. And, this number continues to grow.
In 2021, studies found that one in every five Americans were members of a fitness studio or health club. According to IHRSA, the most recent data shows a 3.8% increase in that number over the last two years. These studies were conducted as part of the Physical Activity Council. A group that works diligently to raise awareness on the importance of the link between access to health clubs and mental health.
Open the page to any health publication, scroll the internet or browse social media and you'll be flooded with the benefits of working out, not simply for physical health but also mental wellness. The benefits of exercise on everything from lowering blood pressure and improving cardiovascular health to decreasing depression and increasing energy are overwhelming. But, what you may find surprisingly is that people still prefer to work out at a brick and mortar health club. Studies suggest Americans enjoy the sense of community, in-person instruction, and on-site amenities that come with working out at a gym, health club or fitness studio.
If you are considering opening a franchise, investing in a gym franchise is a smart business decision. One look at the data and it is evident that gym memberships are on the rise, Americans prefer to work out at a health club and more and more people are taking charge of their health.
Let's take a closer look at how exercise is trending in America today and then explore how opening a gym franchise could be a life-altering decision, giving you the freedom and lifestyle that you desire.
American Exercise Statistics in 2022: How Many People Go to the Gym?
The fitness industry has reached an all time high in the United States with 21.8% participation. Statista reports the United States, Germany, and the United Kingdom have the highest number of fitness club members. The health club revenue in the United States alone, from 2000 to 2019, was nearly $35.03 million. As we stated, that number continues to rise. The collective membership fees in the U.S. have a share of 60.4% in the overall health and fitness club industry. Statistics also show that 75% of people prefer to use strength training machines at their gym on a regular basis. An astounding 6.1 million people take part in exercise or fitness-related classes at least twice a month. These numbers solidify the importance of health clubs, fitness studios and gyms across the country. A trend that shows no signs of slowing down.
Percentage of Americans Who Exercise Regularly
According to the Federal Physical Activity Guidelines, adults should get at least 150 minutes of moderate or 75 minutes of vigorous exercise each week. In addition adults should incorporate muscle strengthening activities into their routine at least twice a week. Currently 23% of adults 18 and older hit that target. Yet, the U.S.'s health and wellness industry is valued at $1.2 trillion, accounting for 28% of the $4.37 trillion industry worldwide.
The Future of Gym Franchises
With Americans' propensity to take better care of their health and thus workout at a gym or health club, investing in a gym franchise is undoubtedly a sound business choice. According to Statista, the fitness industry in the United States brings in $27.6 billion annually. The studies further suggest that this revenue has the potential to reach even higher values as health clubs continue to increase in popularity. This growth suggests that there will continue to be a stream of new members and gyms throughout the country.
5 Reasons To Invest in a Gym Franchise
Investing in a gym franchise creates opportunities to be your own boss, find financial freedom and facilitate a healthy lifestyle for you, your family and your community. If a franchise is on your radar, here are 5 reasons to consider a gym franchise.
You Don't Have to Be an Experienced Franchise Owner
Opening a business or a franchise takes a leap of faith. The idea of starting from scratch can seem overwhelming. By investing in a gym franchise with a proven track record, someone else has already done the hard part for you. A team has incorporated the logistics of opening a business into a proven playbook. By putting in the work and following the outlined steps, you can run a successful franchise.
Gym Franchises Open Up Multiple Revenue Streams
If you are looking for a franchise that opens the door to multiple revenue streams, you've found it. A gym franchise unleashes potential for passive income through options such as personal training. And, while you want your members to workout and use your gym, you're making money through memberships regardless of how many times people come into your gym.
You Are Not Tied to Being in an Office 9-5 or Even On-Site Daily
Regardless of how much you love your job, there comes a time when you long for the freedom that comes from running your own business and choosing when you go into the "office." Owning a gym franchise comes with a lifestyle freedom like no other. You do not have to be on-site daily to be a successful franchise owner. The freedom is yours.
There's Growth in the Gym Sector & It Shows No Signs of Slowing Down
So many franchise markets are already saturated. If you've gotten anything from our article, you must know that the health and wellness industry is booming. In particular, the increase in gyms and gym memberships is at an all-time high with potential for so much more growth. A low-cost high value gym franchise is leading the market when it comes to the fitness industry.
Why Not You?
People just like you have made the choice to invest in themselves and their future. You can too. Believing in yourself, the impact that owning a gym can have on the community, and truly wanting to put in the work for YOURSELF will drive your success. With a proven franchise behind you, success is attainable. Living the lifestyle that you've dreamed of is only one decision away. As the saying goes, "You only regret the chances you didn't take."
If you are interested in hearing directly from other franchise owners, here is a link to testimonials.
Please reach out if we can answer any questions and discuss the franchise opportunities available with Workout Anytime. We wish you much success in whatever path you choose.